International Seminar
 From 31.08 on 03.09.2016 аssociate Professor Bynda T. P., assistant Mozgova Iu. A. and graduate student Smiyan-Gorbunova E. A. they were trained and participated in the International Seminar for conducting clinical trials in Madrid, Spain.
INTERNATIONAL SCIENTIFIC CONFERENCE OF STUDENTS AND YOUNG SCIENTISTS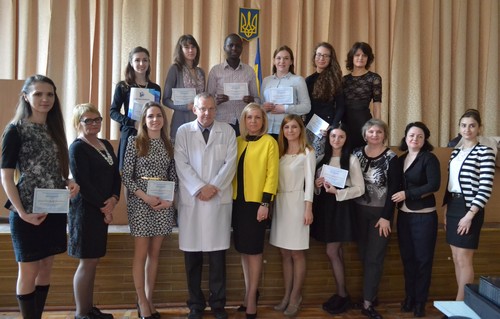 April 21, 2016 in Sumy City Children's Hospital has successfully passed the International scientific and practical conference of students and young scientists "Actual problems of theoretical and clinical medicine" section of "Pediatrics", which was attended by the Department of Pediatrics of SSU Medical Institute of Postgraduate Education and pediatrics with a course of medical genetics. Reports were devoted to contemporary problems of pediatrics.
Congratulations to the winners of the conference:
1st place – Vakolyuk A.V.
1st place – Zyobra Y.S.
2nd place – Sitnik N.O. 
2nd place – Tokar V.S.
2nd place – Samson Sirma
3rd place - Ushkalenko A.O.
3rd place – Ribalko L.V.
3rd place – Shepil E.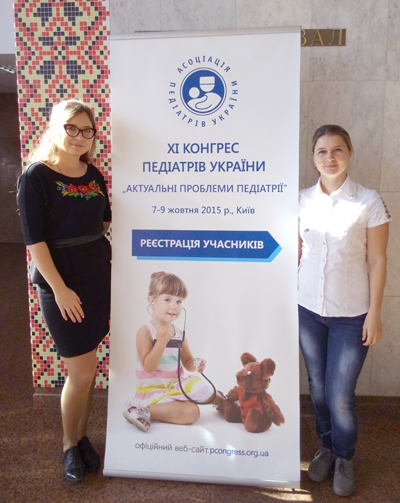 Graduate students of our chair Smiyan-Gorbunova E.A. and Dmitrova E.V. visited the XI Сongress of pediatricians "Actual problems of pediatrics" which took place on October 7-9, 2015 in Kiev.
  Graduate student Smiyan-Gorbunova E.A. presented a report "Features of the intestinal microflora in children with rotavirus infection".
  On the Congress reports were made by leading scientists of Ukraine, the professor-pediatrician, practising doctors and representatives of professions such as allergology, immunology, gastroenterology, pharmacoeconomics.
The scientific and practical seminar in a format of teleconferences 
       Teachers and graduate students of Department of Pediatrics of Postgraduate Education took part in the scientific and practical seminar in a format of teleconferences "Problematic issues of pediatrics in medical practice" which was held on September 25, 2015 with participation of the cities Kiev – Kharkiv - Poltava - Sumy . The seminar was held in the framework of the European week of immunization in order to improve of organizational work on questions of immunoprophylaxis, prevention of infectious diseases and Professionalization of pediatricians.